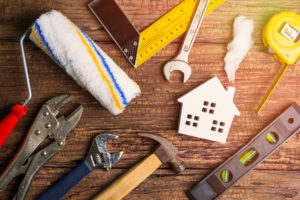 As the summer draws to a close, it seems that our time spent isolating at home isn't yet over. While working remotely from the comfort of the couch may have seemed like a mini-vacation several months ago, you may now find yourself feeling restless.
Fortunately, there are tons of positive activities you can pick-up and practice while self-isolating. If you've been putting off a home maintenance project or task, now is the time to take charge and get it done.
Caring for your home is crucial to keeping your household healthy and safe. Keep reading to learn how essential routine maintenance is, especially now.
Home Maintenance in the Time of COVID-19
First-time home buyers face quite a few hurdles when searching for a property. They have to make about a thousand decisions, weigh dozens of options, and familiarize themselves with somewhat challenging homeowner's insurance terms.
When you add personal safety to the mix, things can quickly become far more complicated. Not only is it crucial to maintain a safe distance from realtors while buying a home, but it's also vital to ensure that your new home is safe and sound.
Some properties may gleam and glimmer on the outside but have rotten foundations or faulty appliances. If the previous homeowner did not keep up with regular home maintenance, the new owner may find themselves saddled with expensive issues.
Fortunately, any homeowner or buyer can transform a homely hovel into a palatial palace by investing in home maintenance services. Of course, you don't always have to pay a professional to enjoy a high-functioning home.
There are several tasks that you can do to help your property remain in tip-top condition. Maintenance at home often begins with a little education and a handful of tools. Still, you'll also need dedication, patience, and consistency for the best results.
Benefits of Home Maintenance
It's worthwhile to take a moment and consider all of the potential benefits of regular maintenance. Doing so may help you find the motivation and inspiration you need to keep your home's foundation, walls, roof, and appliances in premium condition.
Some of the most common benefits of home maintenance include:
Fewer necessary replacements and repairs over time
Improved property value
Less day-to-day stress concerning home care
Lowered homeowner's insurance costs
When your home is in fantastic condition, you can rest easy knowing that you and your household are safe from harmful pests and irritating mold and mildew. You could also avoid dangerous structural problems and unnecessary stress.
After all, no homeowner enjoys finishing a hard day's work, only to come home and find that their oven is on the fritz. Regular maintenance can help keep every part of your home working well and looking great.
Of course, if you're unfamiliar with DIY home maintenance, a checklist can help you get started.
Home Maintenance Checklist
Just like your back-to-school checklist, the home maintenance checklist for your property should be consulted at least once a year. Some appliances or areas may require weekly maintenance, but the majority can benefit from yearly work.
Consequently, it may be helpful to separate your home maintenance tasks and projects by consistency. Doing so can help ensure that your property's value continues to increase throughout the year and that your home remains safe and clean.
Weekly Needs
There are dozens of weekly home maintenance tasks you could choose to tackle. Some of these tasks only require a few minutes of your time, while others may necessitate an hour of dedicated work.
Still, these weekly maintenance jobs can help you enjoy improved interior air quality, home organization, and safety. Some of the best weekly maintenance tasks to conquer include:
Checking the smoke detector
Checking the carbon monoxide detector
Vacuuming the carpets
Sweeping tile or hardwood flooring
Mopping tile or hardwood flooring
Cleaning stovetop surfaces
Disinfecting and cleaning countertops
Check HVAC filters for dirt and dust build-up
Cleaning all windows (panes and frames)
Light dusting
You can incorporate any or all of these tasks into your daily routine without wearing yourself out. Daily cleaning can help reduce your weekly workload and help keep your belongings in excellent condition.
When your appliances, countertops, and furniture are well-maintained, they're likely to last far longer. The result is fewer costly repairs and replacements, which means more money in your pocket in the long term.
Annual Needs
Many annual maintenance tasks can also be completed bi-annually or quarterly. It might be wise to contact a professional service agent or technician before completing any tasks that require you to come into contact with plumbing or electrical wiring.
Still, there are a handful of reasonably safe annual home maintenance tasks to take advantage of. Homeowners can always check their:
Door and window seals and weather stripping
Bathrooms and attics for signs of mold and mildew growth
Roofing for signs of damage or wear
Outdoor AC unit and interior HVAC system for debris
Kitchen exhaust system and fan
Gas heater and water heater
Walls for signs of cracks or crevices
Gutters
If you feel uncomfortable with climbing a ladder to reach your home's roof or gutter system, professional technicians can help. Though it's crucial to maintain distance from these service agents, it's not impossible to employ them.
Many maintenance providers and service companies can communicate with clients virtually, lowering the risk of potential viral transmission. Additionally, some maintenance tasks may require zero in-person interaction.
Prevent Future Claims with Regular Maintenance
You could save yourself hundreds of dollars in annual insurance premiums by performing regular home maintenance. Utilizing a checklist can help you ensure that every nook and cranny of your property is in excellent shape.
There's never been a better time to keep you, your household, and your belongings safe. While self-isolating is an excellent way to avoid viral transmission, it can make expensive or complicated home repairs nearly impossible.
Preventing future claims might be as simple as lubricating your garage door or testing your smoke detectors, so be sure to get started today.
If you'd like to learn more about homeowners insurance or get claims assistance, contact Kicker Insures Me Agency today!