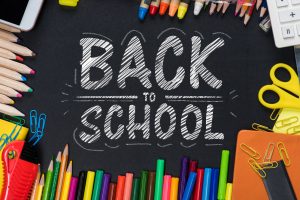 It's that time of year again.  The bells will soon be ringing, the sneakers will be squeaking, and buses will be roaring; unless you're in college then there are different experiences.  Regardless of age or what kind of school your child, or loved one is going to, preparing all of the essentials for a comfortable and safe experience is crucial for helping everyone ease back into the daily grind of things with a brand new school year.
Among your list of things to do, here are a few critical options to focus on
Get your official documents in order
If your teen is going away to college, or your little one is going to school for the first time (or anywhere in between), then you will want to update your paperwork to make sure it's all in order.  This includes your insurance as well, especially if a teen is taking one of your cars away to school with them.  Make sure that all of the necessary paperwork is in order from enrollment to insurance before that first day arrives.
Update emergency information
Make sure that your emergency contact information is up to date so that you know your loved ones have a plan as well as all of the up to date information for the unlikely case that they may need to be contacted.  This includes the teen that has gone off to school.
Get everyone's new schedule "up on the board"
Once everyone's schedule – complete with extracurricular events – is set, consider putting it up "on the board", meaning the family calendar.  If you are into the idea of a mobile calendar, then consider an online calendar than everyone can access and edit as needed.
Prepare for the distance (on both ends)
It's not uncommon for a teen to initially break off contact when they go to school at first.  They think they don't need their parents anymore, so they respond slower to texts, emails or social media, and they focus a lot more on their new lives that are right in front of them.  As the parent, you'll want to prepare for that.  You'll also want to prepare for them to come crashing back into your life if they encounter a problem or get homesick.
Both can be difficult for parents and teens alike, but preparing for it by having open discussions about everything from roommate squabbles to exams can really help both parents and teens understand the changes that are going to be coming.  This can help your teen to understand that there is an open line of communication.  They then know that they don't have to be entirely independent even if they're living on campus or in an apartment.  Even though s/he may not show it, they are nervous to go off to school too, just like you are.
From updated paperwork to having heart to heart conversations, back to school preparation can be effective, streamlined and fully inclusive.  You just have to know which items to include on your to-do list so that everyone is prepared for the new year to come.
We can't really help with the back to school jitters but happy to help with regard to your personal insurance needs. Contact Kicker Insures Me Agency with any questions, to review your insurance coverage or to get a quote for new coverage.