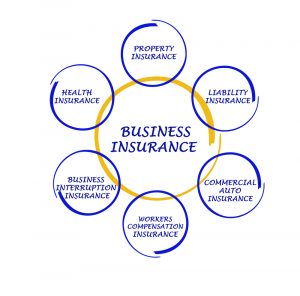 When you are operating a business, there's the fun part of actually, you know, running a successful business, but there are some technical things that you should work out, too, to make sure everything stays safe and enjoyable even in the worst case scenario.  The key to all this is business insurance.  There are many kinds of business insurance to learn about so that you can protect yourself, your brand, your employees and your future as a business and owner.
What is business insurance?
In its most general terms, business insurance is legal and financial protection from a lot of the common problems that businesses will run into.  It relates specifically to your business and not your personal property or space.  Several of the most common kinds of business insurance are below.
General liability
Most small businesses will be required to have general liability business insurance.  This is as general as it sounds, offering protection against damages from bodily injury, property damage, medical expenses, etc.
Property insurance
If you have a shop or a warehouse or any other kind of commercial business property/location, you should have insurance on it for break-ins or fire damage, etc.  As well, flood insurance is an insurance add-on that will save you a lot of headaches if your business does happen to flood.
Product insurance
If you are selling products, product insurance can offer protection for defective products that are responsible for causing harm or injury.  While this is only required if you are selling physical products, it can often be added in to your general liability insurance.
Auto insurance
If there is any driving needed for you or your employees for your business, then commercial auto insurance should be in place.  This will protect from damage, accidents and replacement so that it is separate from your personal insurance.
Worker's compensation insurance
If you have employees, worker's compensation is important to protect you, them and your brand from any claims from a fall or injury related to the business.
Professional liability insurance
In a business, claims can come against a company due to negligence such or failure to perform.  For this, you can get a professional liability insurance that will protect your company.  These are always specific to your category and company.
Cyber liability insurance
More and more cyber problems are popping up with business that results in data loss, data stealing and all sorts of problems as a result.  As such, cyber liability insurance can be great to have in your pocket, especially if you are dealing exclusively with online clients.
Business income insurance
If, for whatever reason, you need to shut down business temporarily this insurance can help with recovering your business' losses during that downtime.  It can often make or break the smaller start up businesses.
As you can see, there are a lot of things to potentially protect or leave vulnerable in your business.  Knowledge is power, and knowing which of these is right for your business can save you time and your future.
Of course you don't have to know it all, that's our job. Contact Kicker Insures Me Agency here, or call/text us at (281) 487-9686 to discuss your business and determine what insurance is required and necessary to protect you and your business.