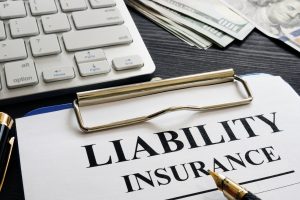 Imagine you're driving your kids to school when a car stops suddenly in front of you. You slam on the brakes, but your car plunges into the back of it. Now your neck is hurt, your kids have aches and the other driver's rear end is smashed.
Next thing you know, you've got medical bills, car repair costs and the other person is talking about suing. You have no idea how you'll pay for an attorney, let alone everything else. You could be financially responsible for thousands in costs with no clue about what to do.
This is why you have car insurance to help with car accidents and where where auto liability coverage comes in.
Avoid Being Liable With Liability Coverage
When you're found at-fault for an accident, liability coverage takes care of the resulting costs up to your coverage maximum for the other people you injured.  This part of the auto insurance is not taking care of you.
You are financially responsible for any costs when you cause an accident.
If anyone else is hurt or sustains physical damage, liability insurance covers medical costs. It doesn't cover you and anyone in your car because it only covers the other driver and the passengers in that car. Additionally, if pedestrians are involved, they're covered too.
Liability insurance also covers damage to the other person's car or any street fixtures involved like light poles, sign, signals, and fire hydrants.
Everything liability insurance could cover for the other driver
Medical costs
Funeral costs
Lost wages due to injury
Pain and suffering
Auto repair and replacement
rental car expenses
Additionally liability insurance could cover public and private property damage.
Liability doesn't cover theft or vandalism to your car. Full coverage insurance which includes comprehensive and collision coverage helps take care of expenses due to theft and vandalism.  Remember liability is for the other people, not you or your property.
It's Required By Law
Texas law requires all drivers to carry basic liability coverage at minimum limits of 30/60/25. Meaning, $30,000 covers each injured person in a single accident, $60,000 covers each accident you have, and $25,000 covers property. Should you consider above your state minimums?
If you fail to provide proof of liability insurance when you're pulled over by law enforcement, you could be fined up to $350. You'll also be required to pay an additional fee upon renewing your drivers license the first time after and for the next three renewals.
And, if you're in an accident where the other person is found to be at fault, your chances of winning personal injury damages decrease. A judge could decide that since you operated a vehicle in disregard of the law and the personal safety of yourself and others, that you aren't entitled to damages.
Auto lien-holders require car buyers to carry full coverage insurance until the vehicle is paid in full, at which time you can switch to liability coverage only.
Get The Coverage You Need
Liability insurance is just one of the types of coverage that can help protect your pocketbook if involved in an accident.
If you've got a new car, or its time to renew insurance and you want to compare all the options we've got you covered.
Get a free auto liability insurance quote or give us a call/text at (281) 487-9686 to discuss your insurance needs with one of our experienced agents.