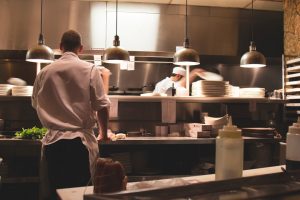 The average cost of opening a restaurant is around $275,000.
If you've got your hard earned money invested in your business, you want to be sure that you're covered should anything go wrong.
That's why every restaurant needs business insurance. There are different types of coverage when it comes to restaurant insurance. Read on as we take a look at what you need to know about business insurance for your restaurant.
Liability Insurance
When your business is serving food to people, there are plenty of risks that may arise. Someone might contract food poisoning.  A person may choke on something they are eating. One of your workers could get injured in the kitchen, and there are many other scary scenarios that may come into factor.
If something like this happens, there's potential for you to get hit with a lawsuit. Liability insurance can help protect you.
General Liability
General liability will cover you for most types of claims you might expect when running a restaurant.
If someone gets sick after eating your food, or slips and falls on your premises, general liability insurance is what you'll need if you are sued. There are an estimated 40 million lawsuits filed every year in the US, so you can't afford to be without liability insurance.
Liquor Liability
If you serve alcohol at your restaurant, you're going to need liquor liability insurance without question.
If someone visits your restaurant, consumes alcohol, and then injures themselves or someone else, you may be liable. Liquor liability insurance helps to protect you from any potential lawsuits, and pay for any settlements if you are found liable.
The bottom line is, if your restaurant serves alcohol then liquor liability insurance is a must.
Cyber Liability
Most, if not all restaurants take electronic payments. You will be responsible for safeguarding the financial details of hundreds of people. If that data is lost or stolen due to hacking, you may be liable for damages. Cyber liability insurance can help protect you against crimes that many of us would not even think of covering.
Cyber liability can also cover you if your business has to close temporarily because your computer systems are attacked.
Worker's Compensation
If an employee becomes injured at work or has an illness caused by their work environment, you may be liable for some or all of the costs incurred.
Workers compensation coverage is a prerequisite in most states for any business with employees. It's designed to ensure that if something does go wrong, the money will be there to adequately compensate your employees. Worker's Compensation gives both you and your staff peace of mind.
Loss Of Income
If there is an outbreak of food poisoning at your restaurant, you may have to temporarily close it. If there's a fire in your kitchen, you're unlikely to be back in business until you've had the smoke and fire damage repaired. Every hour your restaurant isn't open is an hour that you're losing money. Loss of income insurance will ensure that if the worst happens and you aren't able to operate your business, your bills will be covered.
Property Damage
Property damage insurance covers your building, your equipment, and your stock items. It doesn't matter whether there's damage to the building itself or something like your glassware gets broken.  Property damage will cover unexpected losses to the building or the equipment you use to run your restaurant.
Crime And Vandalism
If burglars target your business it can be a harrowing experience.
Crime and vandalism coverage will ensure that if you are a victim of theft or malicious mischief, your losses and repairs will be covered.  For example, if you have an employee who decides to steal cash from your register, crime and vandalism coverage would cover your loss.
Equipment Breakdown
If something happens, like your walk-in cooler goes down due a power surge and all of your frozen food spoils, standard insurance won't cover the loss.
These types of losses can be insured with equipment breakdown coverage. If your machinery stops working, the insurance will pay to repair or replace it without leaving you with a hefty bill.
Are You Looking For Great Restaurant Insurance?
If you're looking for high-quality restaurant insurance for your Pasadena or Texas business, we've got you covered.
We can work with you in finding the perfect fit for your restaurant insurance needs. We also cover many other areas of commercial insurance, including commercial auto insurance, contractor's insurance, and more.
Contact us at (281) 487-9686 for a free quote today!