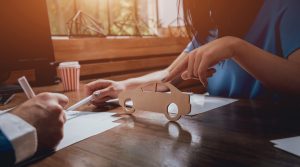 The last thing you want when you're preparing to go on vacation is additional fees or costs you hadn't anticipated. But, that's often times what happens when you arrive at the rental car counter. You know it's coming, if you have ever rented a car, they want you to buy insurance. Like most folks, you find yourself wondering if it's really necessary to buy the rental car company insurance coverage.
As a car owner, most likely your current auto insurance policy covers you as a driver on the road, but what about the rental car itself? This is where things start to get blurry and become a little more complicated.
Whether you need car rental insurance or not depends on the type of coverage you carry within your existing auto policy. Keep in mind that the rental car company is also interested in making a profit. It might be a better idea to contact your independent insurance agent and verify your coverage versus taking the last minute advice at the rental car counter. You should always aim to understand what coverage you have, what you need and at what cost.
Here's a breakdown of the different coverage types available.
The Scoop on Rental Car Insurance
There may be some pieces of coverage that the rental insurance company offers that will benefit you even if your existing policy takes care of the basics.
Liability Coverage
Liability coverage covers bodily harm and property damage done while you were driving the vehicle. This includes hospital bills and repairs. You likely have this covered under your personal auto policy, but do you know your limits?  It's always better to double check with your agent.
Personal Accident Insurance
If you don't carry personal injury protection on your existing auto policy, then you'll probably want personal accident insurance. It covers yours and your passengers' medical bills in the event of an accident.
Collision/Loss Damage Waiver
A collision/loss damage waiver is not actually insurance coverage but it acts as such in the event that you damage the rental vehicle. It may also cover 'loss of use' if the rental car is out of commission for repairs. This is something that your personal insurance likely won't cover.
Personal Effects Coverage
Personal effects coverage protects your belongings left in the vehicle. If they are stolen from the rental car, you will be reimbursed. If you have an existing homeowner's insurance or renter's insurance policy, you shouldn't need to worry about this coverage but check with your independent insurance agent so you know for sure that it's covered.  Also, if there are any limits or exclusions you want to understand them beforehand.
Understanding Your Own, Existing Auto Insurance Policy
Remember, you are already paying for existing auto insurance. Liability, comprehensive, and collision may all protect you while you're behind the wheel of a rental car. The add-ons available through the rental agency may be considered just that, add-ons which equates to more money to pay for something you are already paying for.
Final Thoughts
In the end, purchasing rental car insurance depends on what you need to be covered while you're occupying and driving your rental vehicle, in addition to what you currently have on your own auto insurance coverage. It's important to do your research before you reserve your rental car so that you won't be presented with surprises when you're ready to pick it up, along with having peace of mind knowing you made the right decision.
Something else to consider is whether the credit card you use to reserve your vehicle has any rental perks. Some credit card companies offer limited insurance coverage for rental vehicles reserved with that card. Make sure to ask the credit card company about what is covered, ahead of time, so that you can reserve additional coverage if necessary.
If you have questions about how rental car insurance works and/or what your existing auto policy covers for rental cars, contact Kicker Insures Me Agency here or call/text us at (281) 487-9686 today! We are your one stop for insurance coverage so let us be a resource for you – whether it is going over your current coverage or ensuring you are adequately covered regardless of the situation. We look forward to helping you.