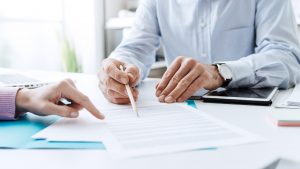 Have you ever considered using an independent insurance agent for your insurance coverage needs? If so, we're here to explain what they are and help convince you that it's the right choice.
We all have to have insurance. It's the law in Texas, and most states, for some sort of insurance. However, sometimes finding the right plans at the right prices and which bundles and discounts you qualify for can be confusing.
That's what independent insurance agents are great for– to take the load off your shoulders so you can sit back, relax, and rest assured you've got the best coverage for the best price. You also have someone advocating for you!
Keep reading to learn 8 reasons to choose an independent insurance agent over those large corporations and 1-800#s.
Independent Agents versus 1-800#s
1. They Work for You, Not a Company
Independent agents don't "work" for one insurance company. They work for you–the customer. Their job is to find you the best personal insurance for your family's needs with the carrier that has the best insurance for the price.
This means independent insurance agents represent a whole array of insurance companies, which gives you many options to choose from.
Independent agents are personal shoppers. Instead of spending hours researching, calling, and getting multiple quotes from different agencies; independent agents do all of this for you.
One of the best reasons to choose an independent insurance agent is the custom fitting. They will find you an insurance plan that is customized for your personal or business insurance needs. Maybe you need auto and home? Maybe you want to throw in motorcycle or renter's insurance? Perhaps you have a budget you want to stay within? Whatever your needs, the independent insurance agent will find a plan for you!
Your independent agent is your key advocate. Their job is to get you the best deal for the best quality, which means they have your back.
2. Knowledge
One of the top reasons to choose an independent insurance agent is for their vast knowledge of the insurance industry. They are experts because they don't work with 'just one' company.  They know the ins and outs of several different companies, which gives you several different options.
Along with knowledge about several different companies, independent agents are familiar with their strengths and weaknesses. They also stay up to date with the industry trends (so you don't have to) so they will have the most up-to-date advice, too.
Simply put, and independent agent's knowledge is unmatched when it comes to comparing options and finding you the best coverage.
3. Savings
Hiring an independent insurance agent will save you both money and time. As mentioned, they take on the hassle of shopping around and comparing rates. This saves you enormous time and energy which we all know is precious.
Independent agents know how to get discounts, and they know which savings you can qualify for.  Many times companies have savings that aren't publicized, but independent agents are well versed when it comes to what different companies offer.
Another perk– independent insurance agents have built relationships with many insurance companies. This means they may be able to get you even more savings through their personal connections.
4. All of Your Insurance Needs in One Place
Most independent insurance agencies can get you coverage for all your insurance needs. This means you only have one company and agent to deal with for everything.
'Captive' agents or big corporations will not be able to service all of your needs most of the time; so if you have a boat, motorcycle, ATV or if you drive for Uber or Lyft, you might have to go through the hassle of looking for 'a different company.'  This means more bills to track and take care of.
Even if you need commercial insurance for some things and personal insurance for others, you can get it all in one place at an independent agency.
5. Customer Service
Would you rather talk to a person who you know, or an automated service when you have questions about your insurance or need to report a claim? It gets super frustrating to press # for help with one thing and press # for another.  Can you text your agent and get someone texting you back?  Kicker Insures Me Agency does!
With an independent insurance agent, you can be guaranteed that you'll have quick, quality customer service when you need it; and from a real person!
If you need to submit a claim, your agent will be able to explain your coverage, options, and walk you through the steps.
If you have property damage or an injury, your agent will be able to help you with that, too. Most often, your independent insurance agent lives in the same communities you do, so they know what you are going through or dealing with and likely already on top of it for you!  So, you can focus on what is important with peace of mind.
6. Reputable
First of all, independent insurance agents are licensed. This means you can count on their credibility.
Second, independent insurance companies must have a good reputation to keep business afloat. They are small businesses that rely on the support of their communities. This means you can count on them to provide good quality service.
Feel free to check your insurance agent's reviews – but feel free to check out Kicker Insures Me Agency Facebook reviews here and Google reviews here.
7. Personal Relationships and Understanding
Insurance coverage, rates, and policies all can be confusing at times. Luckily, an independent insurance agent will, first and foremost, build a personal relationship with you along with helping to ensure you understand your options, clauses, limitations, coverages and etc.
One of the most important reasons to choose an independent insurance agent is the fact that your relationship doesn't abruptly end after you choose your insurance. Your agent is available year-round to check-in, help with updates or questions you may have, and provide expert advice when needed.
8. Peace of Mind
One of the biggest benefits to choosing an independent insurance agent is the peace of mind you will gain from knowing your agent is on your side. You'll know that when you save money on your insurance, it isn't at the expense of coverage or customer service.
The role of insurance is to protect your family, home, business, and other personal assets. So, having someone reliable that cares about you and your needs lets you know that you can count on that protection.
Find the Perfect Independent Insurance Agent Today
There are a lot of reasons to choose an independent insurance agent including quality, support, savings, and peace of mind. Why would anyone not choose an independent agent for their insurance needs?
Now that you've got the scoop on the benefits, let's get started! Whether you need personal or commercial insurance, Kicker Insurance agents can help. Check out our insurance options and request a quote today or contact us to schedule an appointment with an agent.