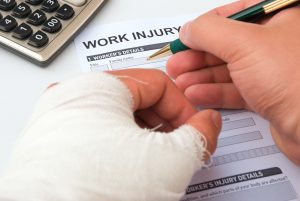 If you're injured on the job, you may be eligible for workers' compensation, which can supplement your income while you heal.
However, not all laws are the same for every state. Texas handles things differently than many other parts of the country.
Read on to learn how workers' compensation in Texas differs so you're ready in the event of a work-related injury.
It's Not a Rule
One of the most important differences between Texas and other states is that Texas doesn't require employers to have workers' compensation coverage.
This means you could be at risk of losing income or other benefits if you become injured on the job.
If your current place of business does not have coverage, they are vulnerable to lawsuits and other damages. Most employees will file a personal injury lawsuit, which has serious implications for a company.
When you're hired at your job, you will be notified of what kind of workers' compensation plan the company has, if any. Posters should also be placed in different areas of the building explaining whether you're covered.
In Texas, you have five days after your first date of employment to waive your rights to workers' compensation benefits. If you do so, you still retain the right to sue your employer for a work-related injury.
The notice will inform you that if you waive the workers' compensation, you also give up your right to any medical or income benefits under the law. This gives your employer the chance to be very clear on what they offer and what you can expect if you become injured.
Workers' Compensation Texas: Who's Covered
Under Texas law, certain employers must provide workers' compensation insurance coverage.
This includes public employers like a city, county, or state agency.
The University of Texas, Texas A&M, and Texas Tech University must also cover their employees. Any building or construction contractor working for a public employer must also hold workers' compensation insurance.
Other employers who must have coverage include motorbus companies and any company who operates a motor vehicle that's considered public transportation. All liquid propane gas and natural gas dealers also have to provide coverage, as well as any employers of inmates working in a furlough program.
Most public employers offer commercial workers' compensation in Texas. They may also choose to be self-insured. Another option is to buy into a pool or fund that makes up a group of public sector companies.
Who Is Not Covered?
Any federal employee who is working directly under the federal government is not considered bound by Texas law.
If someone in this situation is injured, they can file a claim using a different procedure.
All federal workers must process their claim via the U.S. Department of Labor. For military workers, the claims are filed through the U.S. Department of Defense.
Any workers who work on offshore drilling rigs and ships, as well as those loading or unloading sea vessels, are not covered per Texas law. Their coverage is referred to as specific federal laws or their company's private insurance carrier.
Family members who work on their family's farm or ranch are also not covered by workers' compensation insurance.
If your employer does not offer coverage, they are not bound by law to follow any of the workers' compensation rules.
For most employees of the retail industry and agriculture, you can expect that there won't be compensation offered. However, some employers may opt to offer it to their employees if they choose.
What About Benefits?
Let's say you become injured on the job, your employer has insurance, and you successfully file a claim.
What type of benefits are you entitled to?
In Texas, there are four main types of benefits: income, medical, death, and burial.
The most common benefit is income, which will replace a portion of your wages if you lose hours due to work-related injury or illness.
Keep in mind that income benefits vary. They may be temporary income, "impairment" income, supplemental, or lifetime income. The amount or type you receive depends on the severity of your injury and how soon you can return to work.
Injuries on the job can cost you quite a lot of money for medical care. With Texas workers' compensation, medical benefits will pay for any care that's reasonable and necessary to treat your specific work-related injury or illness.
Your company will use its policy coverage to pay your doctor or surgeon and hospital directly. If you receive "lifetime medical benefits," it means you can not settle for a certain amount of money or receive medical benefits that are unreasonable or unnecessary.
If you die while on the job or as a result of an injury on the job, Texas law says the insurance will cover some of the income you lose as a result. The payments are made to eligible family members. Burial coverage pays for some of your funeral expenses.
Know Your Rights
It's important to know about workers' compensation Texas law so you're ready if something goes wrong at work.
Since not all employers have to carry this coverage, or any group coverage for that matter, so you need to know the implications if you become ill or injured at work.
Make sure your employer clearly shows what their workers' compensation coverage is and that you have paperwork explaining it.
Contact us today for your insurance quote and be sure to visit our website for a wealth of information about workers' compensation insurance and much more!