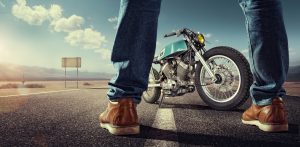 According to the Insurance Information Institute, motorcyclists and their passengers are more vulnerable to accidents in inclement weather than those in closed vehicles.
If you live in Texas and own a motorcycle, this is important to you, especially during the stormy spring and summer months (more folks on the road and more likely are out riding their motorcycle).
When you're riding your motorcycle on the open road, you want to ensure you prepare yourself for anything that can happen. This includes ensuring that you have the right kind of insurance in the case of an accident, inclement weather or if another driver causes an accident.
What are the motorcycle insurance requirements in Texas? Keep reading to find out.
The Basics of Motorcycle Insurance Requirements in Texas
Is motorcycle insurance required in TX? Yep, you bet it is! Just like any other state, Texas requires all registered vehicle operators to carry minimum insurance, and this includes those who operate a registered motorcycle.
This kind of law is in place to ensure that every driver on the road meets a certain level of protection for themselves and others.
Anybody who operates a motorcycle must have, at a minimum, liability insurance. This is basically the same as liability insurance you must also have for a normal auto.
Liability insurance covers damage you cause to others if you get into an accident, and it's your fault. This is important to understand, as it doesn't cover any of the costs of damage or repair to your motorcycle.
In Texas, the minimum is:
$30,000 bodily injury coverage per person
$60,000 bodily injury coverage per accident
$25,000 property damage coverage
While taking out this kind of motorcycle liability insurance, it will ensure that you meet the legal requirements. However, considering the exposure that motorcycle riders have, it is suggested to take out additional coverage to help increase your safety on the road.
Additional Insurance Coverage for Motorcyclists
Because liability insurance only pays for third-party damage, and not the damage to your own property, it's best to take out additional insurance coverage.  You also may want to consider additional insurance which helps you pay for your own expenses, whether personal, property, or medical in the case of an accident.
What's more, is that sometimes it doesn't matter who causes the accident. Extending your insurance coverage helps ensure that even if you cause that accident, you'll receive some sort of payment to help cover your costs.
Additional insurance coverage includes:
Personal Injury Protection: 'PIP' will help cover the costs of injuries for you and your passengers, and it also covers lost wages if you are injured and cannot work
Uninsured/Underinsured Protection: If you are in an accident with someone who doesn't have insurance, or whose coverage is too low to cover your damages from an accident, Uninsured Motorist Protection is essential for your protection
Collision Coverage: Collision coverage pays for your motorcycle to be fixed if you cause an accident.  Sometimes called 'Full Coverage,' collision insurance requires that you pay a deductible before insurance kicks in their share and the body shop fixes your bike.  Talk to your agent about whether or not you should have this type of coverage, and how not having this coverage can affect you.
Comprehensive Coverage: This coverage is used to pay for other damages that occur from weather, theft, or even vandalism. Like Collision insurance, you are responsible for a deductible with comprehensive coverage.
Before you decide which type of insurance is best for you, talk to your Kicker Insures Me agent.  You might need special coverage on parts you've added to your motorcycle, or you might use your bike for racing.  Whatever your needs are, they should be addressed and properly insured.
Motorcycle Insurance for Different Types of Motorcycles
This is an important distinction that you need to know how to understand and make if you're looking for motorcycle insurance in Texas.
The question people ask us all the time is: does my motorcycle qualify as an actual motorcycle and do I need insurance for it?
Great question, and a fair one too!
You need insurance if you have a:
Moped
Scooter
Motor-Driven Cycle
Three-Wheeled Motorbike
A motorcycle, under the eyes of the law in Texas, is a motorized vehicle with saddles for the rider. They can operate on a maximum of three wheels.
Mopeds are similar motorized vehicles that don't exceed 30 MPH. So, while it might not seem like you need motorcycle insurance for such a small, low-power vehicle, according to Texas motorcycle laws, you do!
This can get a little confusing and the kind of motorcycle insurance that you need might vary according to where you ride your motorbike and how you use it.
Again, it's always best to ask a qualified Texas motorcycle insurance agent near you, like Kicker Insures Me Agency, who understands the local laws and can help you find the right kind of insurance for your needs.
What Happens if You Get Pulled Over Without Insurance in Texas?
Driving without insurance in Texas is always a risk, whether you're driving an auto or a motorcycle. If a police officer pulls you over and you have no insurance, you'll likely face fines. You might even have to carry an SR-22 on your insurance, which is expensive and can be a major hassle.
Along with carrying proper insurance, it's important to know that Texas motorcycle laws require you to wear a helmet if you are under the age of 21. So, before you jump on that motorcycle and head into the open road, be sure you paid attention in that motorcycle safety course or stay up to date with the motorcycle rules/laws in your state.
Getting the Right Kind of Motorcycle Insurance
The motorcycle insurance requirements in Texas are pretty straightforward. You have to have insurance if you're operating a motorcycle or any other moving vehicle.
While liability insurance covers you from a legal standpoint, it's best to take out additional coverage to protect yourself, your passenger, and your motorcycle itself.
Speaking with an insurance agent is the best way to know that you're getting the right kind of insurance for your needs. Kicker Insures Me Agency is happy to review all of your insurance coverages and needs to be sure you are properly covered.
Ready to get started? Head over to our quotes page in order to start the process. All you have to do is fill out your information and we'll provide you with a free motorcycle insurance quote ASAP.  Or, you can call/text us at (281) 487-9686 with your questions or concerns. Either way, contact us today!