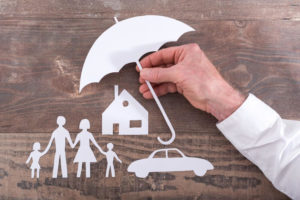 Accidents happen — that's just a part of life. With the right personal insurance, you can avoid financial ruin following an accident that causes injuries or property damage.
While there's not always a "one-size-fits-all" fix in life, personal umbrella insurance can at least protect you when accidents happen.
Umbrella insurance (also known as excess liability insurance) is a fail-safe option for your savings. If you're sued for damages, an umbrella policy will help you pay what you owe. An umbrella policy with $1 million in coverage costs about $150 to $300 per year.
That's just the start, though. Keep reading to learn all about personal umbrella insurance, who needs it, and why!
What is Personal Umbrella Insurance?
Let's say you run a red light and T-bone someone else's car. People are bound to experience physical injuries, which will need treatment. The cars will need repairs as well.
After the accident, the driver might sue you for $200,000 in lost earnings. Along with the repairs and medical treatments, you could owe a total of $500,000.
What if you only have $300,000 in liability coverage? The remaining $200,000 will have to come out of your pocket. Thankfully, your personal umbrella policy will help recover the remaining amount.
Typical umbrella policies start at $1 million in coverage.
Who Might Need an Umbrella Policy?
Who needs personal umbrella insurance? While it's not required, it's ideal to purchase a personal umbrella policy if you:
Own property
Have significant savings or assets
Are worried about liability claims when you travel abroad
Have possessions that could lead to injury lawsuits (pools, dogs, trampolines)
Are a landlord
Coach kids' sports teams
Participate in sports where you could injure others
Volunteer
Serve on the board of a non-profit
Post reviews of products or businesses
Almost anyone can benefit from getting a personal umbrella policy. Why? A large lawsuit would otherwise wipe out your current savings.
Pros of Getting an Umbrella Policy
A personal umbrella policy will provide you with extra liability coverage and defense costs. This extra coverage will exceed the limits of your home, auto, or another insurance policy.
This policy will also cover incidents that your main insurance won't. For example, a personal umbrella policy can protect you from slander or libel.
The coverage will apply anywhere in the world. It will also cover rental items, such as boats.
Finally, a personal umbrella policy is inexpensive for the amount of insurance you're receiving.
Here are a few examples of what personal umbrella coverage will pay for:
Another party's injury treatment or funeral costs
The other party's property damage
Lawsuits that involve defamation of character, libel, slander, or another personal attack
Your legal defense costs
Injuries or property damage your tenant suffers (if you're their landlord)
Keep these advantages in mind if you're on the fence about personal umbrella coverage.
Cons of Getting an Umbrella Policy
Most companies will require you to have an auto or property insurance policy with them already. You'll usually need homeowner's insurance at least in order to apply.
You'll also need to buy a minimum amount of insurance liability coverage for these other policies before you can add umbrella coverage.
Here are a few examples of what umbrella coverage can't pay for:
Umbrella coverage can't help you if you've sustained injuries using an all-terrain vehicle or Jet Ski. However, this sometimes varies depending on the insurer.
How Much Coverage Do You Need?
Before you purchase umbrella insurance, consider your net worth. You'll likely want enough insurance coverage for this amount. Your net worth can include your savings, assets, and other income.
However, you might also want to calculate your potential income if you're likely to earn more in the future.
For example, a medical student will soon earn more once they become a doctor. In this case, they would want to calculate their coverage for the amount they'll make as a physician.
Take the time to consider the potential risks you could face. For example, you might feel at risk as a homeowner, renter, or landlord. What about the potentially dangerous activities you take part in?
Next, consider your assets. The more assets you want to protect, the higher your policy limit.
Finally, consider the potential loss of your future income as well.
However, it's sometimes difficult to calculate the right amount of coverage you'll need. If you're unsure, feel free to speak with one of our insurance experts. We can help you determine how much income you need based on your current and future net worth.
Why Do You Need an Umbrella Policy?
Your savings and checking accounts, future income, house, car, and investments are all assets. When you're sued for a lot of money, all of those assets are put at risk. If you don't have enough liability insurance or an umbrella policy, you could lose all of it.
People usually buy an umbrella policy to protect these assets.
You should also consider an umbrella policy to prevent the possibility of financial ruin. While you can't anticipate accidents or missteps, an umbrella insurance policy can protect you in case of these events.
However, it's important to note that you can get turned down for coverage.
Like any liability policy you want to purchase, an insurer could turn you down based on your driving record or condition of your residence. For example, the presence of diving boards, trampolines, or other items around your premises might cause issues.
If you're turned down, there are high-risk insurance companies that can help. They may consider insuring you for a few extra hundred dollars annually.
Now that you've learned just everything you need to know about personal umbrella insurance, don't wait! Instead, protect yourself by getting the coverage you need today. However, if this just confused you more or made your decision harder, contact Kicker Insures Me Agency at (281) 487-9686 as we are here to help you navigate your insurance options based on your personal situation and your family's needs.
Ready to get started? Contact us today and let's get started!