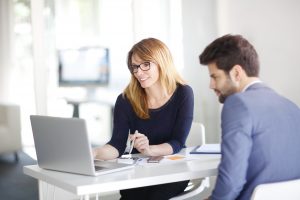 Purchasing insurance yourself may break your spirits, but with an insurance broker, you'll receive some much-needed help finding the right policy for you.
Insurance brokers are a lot like insurance agents, but brokers do not work for any single company. They work with many companies to develop an intricate knowledge of the insurance marketplace.
Since they learn so much about the industry, brokers help consumers navigate policies and translate jargon before they make a purchase.
Unlike agents, which work for a specific agency, an insurance broker will get to know the clients and agencies alike. Since they learn about their clients, they can make sure they get the policy that works best for them and their situation, no matter which insurance company holds the policy.
But those are only a few benefits of getting an insurance broker. Here are a few more.
An Insurance Broker Will Get to Know You
You may end up becoming friends with your insurance broker. It's their job to get know you, and they will want to know about your unique, individual circumstances before suggesting a policy for you.
This is different than an agent, or 1 800#, who may ask basic questions about your situation before handing you a policy created by their company.
Since brokers have a deeper knowledge of the insurance marketplace, they know the intricacies of different policies, and how effective different companies are at upholding them.
They will take all those factors into account before suggesting you purchase any particular policy.
Insurance Claims Never Claimed to be Easy
While it is never fun filing a claim, it can be worse without having someone to advocate for you. Since brokers are not associated with any single insurance company but know the insurance marketplace better than any regular consumer, they can be valuable when it comes time to file a claim.
Brokers can sometimes specialize in a particular kind of insurance, and that gives them an edge when filing a claim. For example, health insurance brokers will know the typical process for filing a claim after their client needs to go to the hospital and can help their client, so they won't be alone when filing a claim.
Commercial insurance brokers would also know the proper way to file a claim after a business's property is damaged, instead of a client having to figure it out themselves.
Brokers Have Their Clients' Best Interest
Because insurance brokers are not associated with one company, they do not have anyone but themselves to fall back on in case they get something wrong. Their reputation is a valuable commodity when doing business, and brokers work to protect it.
This means that clients will get the best possible insurance because the broker has a stake in it as well. Selling one bad insurance policy, or just one that does not fully meet their client's needs can cost the insurance broker future business.
Since brokers are just as invested in getting the right insurance policy as the client, they essentially act as insurance for insurance. Clients that are dissatisfied with a policy can often expect for their broker to work with them to solve the issue, to save them future business.
Insurance brokers have much more at stake than typical insurance agencies and work harder for their clients. They can feel safer doing business with a brokerage than an agency – so contact Kicker Insures Me Agency at (281) 487-9686 to acquire a better relationship with an insurance broker, who will help protect your assets, your business and your property, should the occasion arise.
Let's schedule an annual review of your insurance policies to see how we can help you save some money and ensure that your assets are fully protected, at the same time.