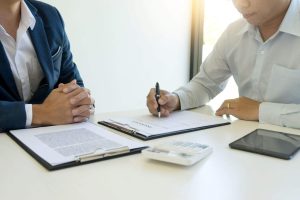 The commercial auto insurance industry generates $34 billion in revenue each year. This is not surprising as business owners are more aware than ever of potential liabilities their businesses are exposed to.
A commercial auto policy protects a business that uses vehicles to get the job done. Are you aware of the consequences that you face for not having commercial auto insurance?
Keep reading for a complete guide as to why you need commercial insurance and what sort of coverage you should consider.
Why Get Commercial Auto
Commercial vs. Personal Auto Insurance
Personal auto insurance is designed to protect individuals and their families. It will protect your personal assets and help you fund any repairs, medical expenses, or liability charges.
A commercial auto insurance policy will protect a business and its entire fleet. The policy will be in the company's name and protect all of the employees while driving any company owned vehicles.
Personal Coverage Excludes Business Use
You cannot depend on your employee's personal car insurance to cover them while driving your company vehicle. With the growing popularity of people using their own vehicles to work for 'taxi' companies or 'livery' purposes, (think of Uber, Lyft, Doordash, etc), most insurance companies have underwriting guidelines that prohibit such use under personal auto policies.  The bottom line is, you won't be covered if you are using your personal car insurance for business purposes, which could be a disaster in the event of an accident.
Who Needs Commercial Coverage?
If your business owns or uses vehicles for business activities, then you need commercial auto insurance. Typical business activities include deliveries, transporting, or towing. Transporting could be moving goods, equipment, or even people.  If you are using your personal vehicle for transporting deliveries (like pizza), or people (like Uber), you also need commercial coverage.
Businesses That Don't Need It
If you have a business, a side business, or if you transport people or goods in any way, it's best to call an insurance professional and ask if you may need commercial insurance.  You may not need any extra insurance, but it's better to be safe than sorry.
It Is the Law
Each state has specific requirements for the required amount of commercial auto insurance for certain types of vehicles and activity. Here in Texas, commercial auto insurance is required by statute.
Those passenger carriers that have 16 to 26 seats must have at least $500,000 for a single limit. If the carrier has more than 27 seats, then the limit increases to $5 million.
Household goods carriers of 26,000 pounds or less must have a $300,000 single limit. More weight than that and the single limit increases to $5 million.
Hazardous material carriers also have specific requirements depending on the vehicle used.
Don't risk your entire business by not following the law.
What If You Don't Have Commercial Auto Insurance?
You open your business up to liability when you do not have commercial auto insurance. First, your employee will have the right to sue you for their injuries.
Since the employee experienced the accident while performing work at your direction for your benefit, you are responsible for their injuries.
Then if there was a third party involved in the accident, they can also sue you. This is possible under the legal doctrine of respondeat superior. This Latin phrase means that the employer is responsible for the employee's actions.
The Myth: Small Businesses Don't Need Coverage
Commercial auto insurance isn't just for the big boys. In fact, small businesses need commercial auto insurance more. Often, small businesses have a handful of employees and a long list of expenses.
One truck getting stolen, one unloading accident, or a single collision could throw your entire business into bankruptcy or worse; closure. Does your business have the money put away to cover all of the expenses for these events?
It doesn't matter how careful you think you and your employees will be. You cannot predict the actions of others. Commercial auto insurance covers the cost of a jaywalking pedestrian, or a vandal breaking into your worksite, or someone T-Boning your work truck in an intersection.
Commercial Auto Coverage Options
There are a few different options when it comes to buying coverage for your company vehicles.
Blanket Coverage:
This coverage is a general and all-encompassing type of coverage. It ensures that your business is protected from any out of pocket expenses or being held liable for an employee's actions. It also protects your employees from getting sued.
Liability:
If your employee is the one who is at fault for the accident, then this insurance coverage will take care of any vehicle repair costs and bodily injuries sustained by your you, your employee, and any person(s) who were not at fault for the accident.
Physical Damage:
If your vehicle gets damaged or stolen during company hours or during company use, this coverage will cover the cost of repair.
Uninsured Motorist:
While everyone should have auto insurance, that isn't always the case. This insurance will kick in when your employee gets into an accident and the other party doesn't have coverage.
Hired Auto:
Sometimes your business will need to lease, rent, or hire a vehicle for business use. You will want to have insurance coverage to protect your employees and your business while these unowned vehicles are in use.
Employer Non-Ownership Liability:
This is extra coverage for your business. If your employee does work for you while driving their own vehicle, you are now at risk for being held liable.
This coverage works to protect your business during an employee's use of their own vehicle that is not listed on your main insurance policy.
Bottom Line – Get a Commercial Auto Policy
If your business has employees driving and using vehicles as a part of their employment, then you need to speak with an insurance professional. They can help you determine if you need commercial auto insurance.
If you need a commercial auto policy, they can then help ensure that you have an adequate amount of coverage. After all, there is no point in having coverage if it won't cover your entire liability in the event of an accident.
Get a free commercial auto quote today and start protecting your business.