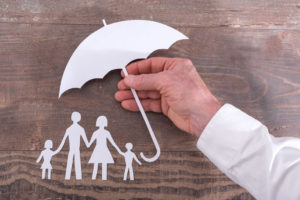 Life insurance is a valuable thing to have so that you can take care of your family when the time arrives.
You may wonder, "how much life insurance do I really need" and how much is too much or too little?
Read on to learn more about life insurance so you can decide how much is right for you and your family.
Consider Minimum Coverage Amounts
One way to determine the amount of your payout for life insurance is to add up the total debt you currently have. When you think of life insurance, think about the things you'd owe money for in the event of your passing.
For most people, a home mortgage is their biggest expense, so you will want to make sure that the balance of your mortgage is part of the coverage amount. Other large assets like vehicles or other property should also be considered.
You might not need to add things like student loan debt or other debts to your policy amount, especially if no one in your immediate family would be liable for them after you die. You should talk to an attorney because your debt may fall to your estate and you want your beneficiaries to be prepared with the right amount of funds.  Funeral and burial costs are another major component to coverage, however.
The cost for funerals and burial prices vary depending on what you want. It can't hurt to research the average cost in your area just to get an idea of what you should include.  You might be surprised that a simple cremation ceremony is more then you expected.  Plus, you may have family that need a more elaborate ceremony to properly grieve.
One other thing many people add to their life insurance coverage is the cost of a child's college tuition. If you're planning to help your child get through college, consider adding this to the coverage amount as well.  Finances are often what prevents many from choosing to attend college.
Life Insurance Amounts Can Depend on the Premiums
In many cases, your life insurance policy will also weigh heavily on premium costs. If you're young and healthy, your monthly premium will be lower than someone who's older or in poor health.
The sooner you can apply and lock in a life insurance policy, the lower your monthly costs should be. Many companies will allow you to keep the same rates for life with no increases, so it's worth it to start shopping now.
You don't want to agree to a plan that will end up affecting you in the here and now financially. If the premiums are too high, it may negatively affect your current budget.
Look for premiums you can afford so that if you lose your job or end up in financial straits, you can still pay for them. Your policy could be canceled if you're late or cannot make the payments and then your next premiums will be higher later down the line. Talk to an insurance agent who can help you come up with the best policy and premiums for you and your lifestyle.
Think About Your Beneficiaries
The question of how much life insurance you need may also depend on how many beneficiaries you have. For example, if you're young and married without children, your spouse will likely be your main beneficiary.
You don't have to include your children as part of the policy, but you can if you want to. Let's say you have a $500,000 policy and you're married with two children.  You can split the policy however you like and could give your spouse $250,000 and each child the remaining $125,000. Some companies also ask for backup beneficiaries just in case one of them dies. Add a parent, sibling, or close friend if you want to include them in the event of an emergency.
You can change beneficiaries through the life of your policy, but you might not be able to increase the amount of your policy. In some cases, you can reduce the amount but increasing it is not always an option or if it is you may not have the ability to increase it due to financial constraints.
Think about how much you should get before you agree on a plan. That way, you'll have peace of mind knowing that your loved ones will be taken care of financially when you're gone.
Consider also that you may need to start small and increase it over time as your income and assets increase.  It is possible to have more than one life insurance policy.
Life Insurance Basics
Once you've determined how much coverage you should have and what your premiums will be, you can activate your life insurance policy. Read the terms carefully and set yourself up for automatic payments so you don't need to worry about it moving forward.
With life insurance, the people you love will have help in the event of your death. From paying for your funeral to paying off the house, it's a great way to create a safety net for your family.
Think about what you currently earn and consider that amount multiplied by a lifetime of earnings. This simple formula will help you decide how much life insurance you probably need.  We recommend to consider at least 10 years of earnings.
When in doubt, there are plenty of resources to help you do more research into life insurance and what products are available. The sooner you start looking, the lower your premiums will be to save you even more.
Get Covered with Life Insurance
After you decide how much life insurance you need, you can find the right plan for you and your family. Look for plans that give you flexibility in terms of coverage and changing beneficiaries as your needs change.
Talk to an insurance broker who can help you find the right price and level of coverage to give you peace of mind. Life insurance is a great way to secure the future of the ones you love.
For all your insurance needs, be sure to visit our website and contact us for a quote today. We are here to help you navigate your insurance needs and situations. Everyone is different so no one plan fits all. Contact Kicker Insures Me Agency with any questions at (281) 487-9686.